Customer support - help and advice that a company makes available to customers when they have bought something
What is meant by customer support?
Customer support is a set of services provided by a company to a customer. It is also a part of customer relationship management. Companies use a Helpdesk to provide customer support. Thus, customers can connect with the company through different types of channels. For instance: Email, Phone, or Live chat.
公司协助安装和培训。另外,他们还会解决客户的问题的询问。
What is the difference between customer service and customer support?
The main difference between the two is that customer support is responsible for assisting a customer with technical issues. On the other hand, customer service is about helping the customer use the product/service to its full potential. This is where you engage with customers and grow customer relations. Thus, providing the best value.
If you would like to learn more details, read Customer service vs Customer support.
Why is customer support important?
拥有客户支持很重要是因为它能创建忠诚的客户基础。除此之外还有许多其它益处。
以下是拥有良好的客户支持的一些益处:
Higher sales
Higher revenue
Customer satisfaction
Customer retention
Efficient workflow
What are the most effective customer support channels?
Live chat
Live chat is an important part of every customer support software. It enables your customer representatives to chat or simply approach customers in real-time. It is believed that millenials are the only ones who use live chat. However, there are also other age groups that use live chat. Don't miss out on live chat and its benefits.
If you would like to learn more, read LiveAgent – Live chat.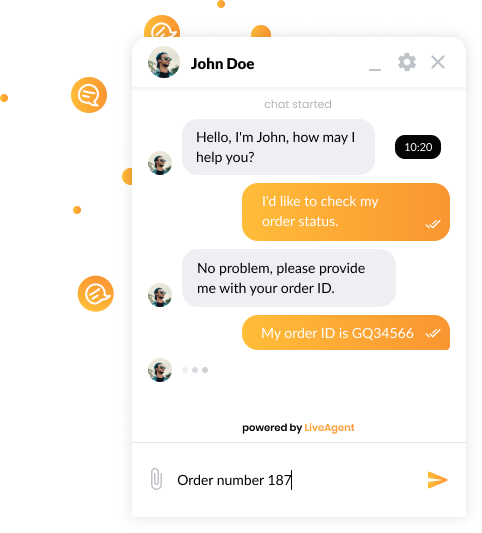 电子邮件
电子邮件是所有客户支持常见的基础部分。有人或许认为,它是支持渠道的加长版。为什么?因为简单来说它需要更长的时间来解决问题。但是,电子邮件依然是世界范围内广泛使用的渠道。
If you would like to learn more, read LiveAgent – Email.
电话
电话也是联系客户支持的常见方法之一。对技术不太了解的客户或希望与真人对话的客户会使用电话。
If you would like to learn more, read LiveAgent – Phone.
Social Media (SoMe)
Facebook、Instagram 或 Twitter。客户会在多个平台相互交流。另外,他们还会与您的品牌/公司互动。通过 SoMe 回答客户询问或帮助客户是当今所有客户支持的重要部分。客户服务软件,例如 LiveAgent 能够帮助您在一个界面管理 SoMe 询问,由此得以高效地回答所有类型的客户并与之互动。
If you would like to learn more, read LiveAgent – Social Media.
客户门户/自助服务
拥有客户门户/自助服务对于全天候运营的企业十分重要。因此,哪怕您的客户代理离线,客户也依然能够获得需要的支持。他们可以通过知识库文章获得指南、产品信息、视频等。
If you would like to learn more, read LiveAgent – Knowledge Base.
What is customer support software?
Customer service software, such as LiveAgent creates an optimal workflow for your customer agents that make them more efficient and effective at the same time. The ability that stands out the most is that a customer representative does not have to switch between interfaces while working. Thus, being able to resolve a customer inquiry from all kinds of channels from one place.
One important help desk feature that allows businesses to manage customer support requests is a customer support ticketing solution. It is a type of software that automatically turns every customer request into a ticket which can be then assigned to the appropriate agent or department.
All of the above-mentioned channels are included in LiveAgent.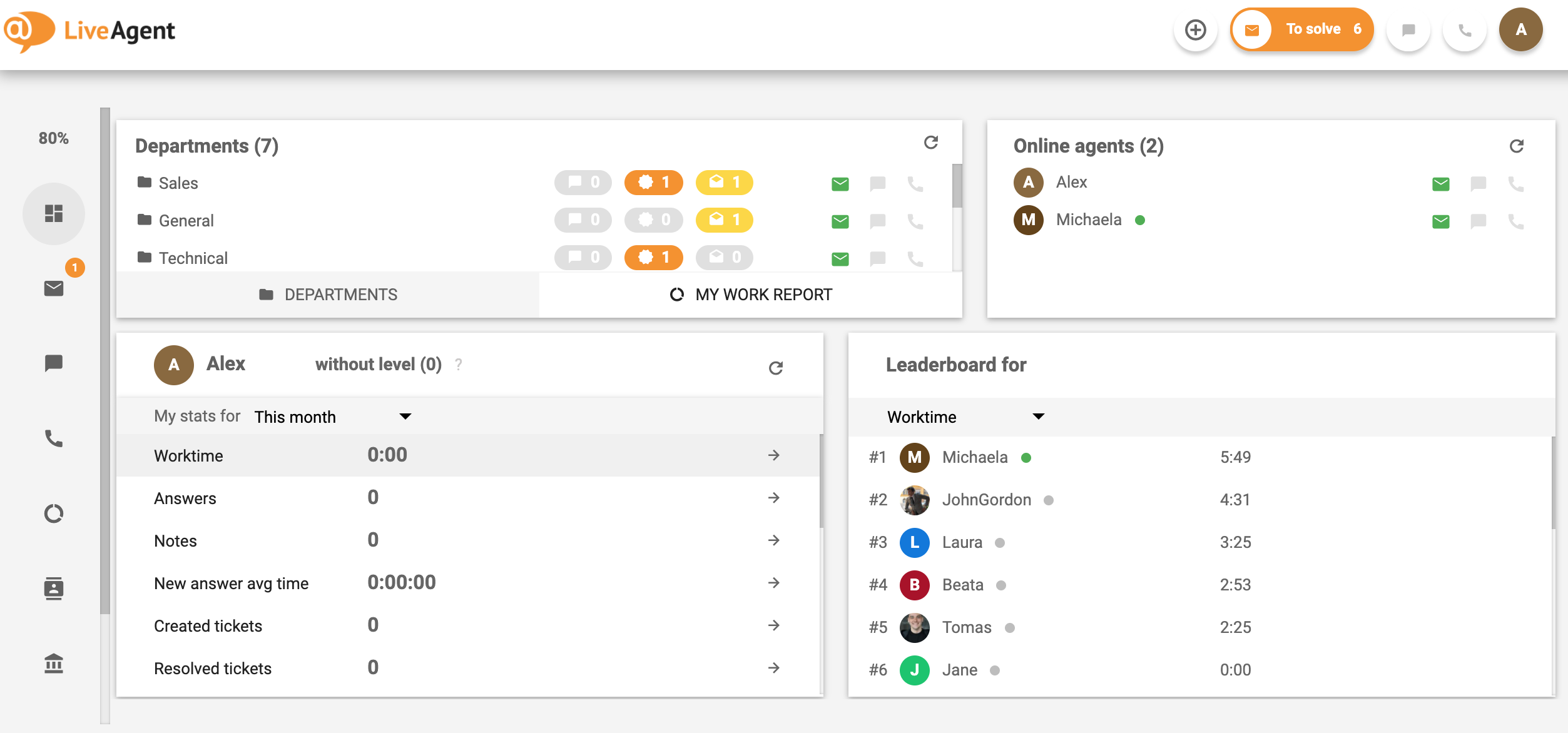 Other LiveAgent features:
CRM
Canned messages/ Predefined messages 
Merge tickets/inquiries
Rules/SLAs
Video chat with customers and colleagues too
If you would like to learn more, read about all LiveAgent – Features here.
Try out LiveAgent for FREE
Handle all customer inquiries from one interface. Start improving your customer service with a 30-day free trial right away!
Frequently Asked Questions
How to define customer support?

Customer service is a range of services offered by an organization to help customers with their problems with your product or services and to support them in getting the most out of using your product. It includes answering customer questions and helping with problem solving.

What are the principles of customer support?

The key to good customer service is, above all, building lasting, good relationships with customers. For this to happen, the customer service team needs to know what customers think is good customer service, stay up to date with customer feedback that helps improve customer service, and look for ways to improve customer service and exceed customer expectations. 

What tools to use to provide the best customer support?

In order to provide the best customer service, it is good to use several tools and communication channels that allow for comprehensive service. It is worth engaging in communication using communicators in social media, e-mail, text messages. In addition to these traditional forms, it is worth building communities in groups on social media or online forums, where clients can contact each other and chat with experts. Live chat is an important tool that allows you to chat in real time when a customer needs quick help. Customer service is also improved by a responsive and intuitive mobile application. In addition, the customer service team should have an appropriate system from which they will be able to manage all channels.
Expert note
客户支持是企业中不可或缺的一部分,提供优质的服务可以建立客户信任,增加销售。与客户联系可以通过多种渠道,包括电子邮件、电话和实时聊天。

Andrej Saxon
Sales manager