虽然社交媒体和数字营销渠道在快速发展,但是邮件依然是影响最大、效率最高的营销工具。邮件营销的投资回报率可达4400%,不论是大企业还是小公司,邮件都是吸引和保留顾客的最佳方式。以下邮件营销模板表明销售业绩很大程度上取决于如何正确使用邮件电子营销手段。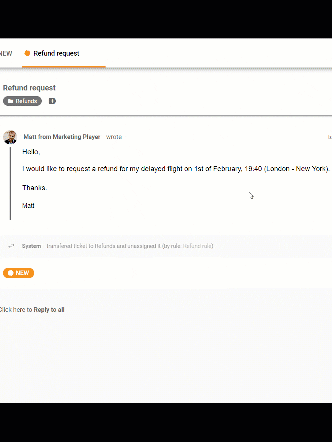 为什么邮件依然是最好的销售渠道?
72%的人希望通过邮件接收促销活动邮件,只有17%的人希望通过社交媒体发送。
61%的消费者希望企业通过邮件联系他们
90% 的邮件最终能到达收件人的邮箱,而只有2%的Facebook粉丝会在社交平台的动态看到信息。
邮件曝光率是Facebook的5倍。
通过邮件,您点击链接的几率是Tweet的6倍。
就营销渠道实现产品购买而言,邮件的转换率最高(66%),这是相对于社交媒体、文件邮寄和其他渠道而言。
邮件营销的顾客转化率是4.24%,搜索引擎的转换率是2.49%,社交媒体的是0.59%。
邮件营销的顾客购买的订单量是社交媒体的三倍以上。
从全球来看,30%的营销商认为邮件的投资回报率最高。
销售和营销部门可以使用的10种邮件模板
使用设置好的邮件模板可使工作更加简单,同时增加绩效。以下是我们提供的10个基本营销邮件模板。有冷邮件、跟进交流和促销邮件等,这些模板是您的营销活动的很好的起点。
入站潜在客户邮件
Hi [NAME],
You recently visited our website and [action took on website]. I was wondering whether you were trying to figure out how you might [business solution]?
This inspired me to spend a few minutes on your site to gain a better understanding of how [Company] can help you [achieve specific goals].
We are working with similar companies in your industry, helping them [accomplish …]. Would it make sense to talk for 10 minutes this week? Please also feel free to book time directly onto my calendar here: [link].
Hope to hear from you,
[YOUR SIGNATURE]

销售简介邮件
Hi [NAME],
I checked out your website, and it looks like you might be trying to [accomplish specific goals]. If you're unfamiliar with [Company], we are working with similar companies in your industry, such as [competition], helping them accomplish three major goals:
[Goal #1]
[Goal #2]
[Goal #3]
If this is something you're challenged with too, l would love to introduce you to [Product] to see if it meets your requirements. Would you have 10 minutes this week for a Zoom call?
Best,
[YOUR SIGNATURE]
P.S. If you're not the right person to speak with, who do you recommend I talk to?

潜在客户跟进邮件
Hi [NAME],
Hope all is well. I trust that you have had an opportunity to read my previous email and look at our website, so I figured it'd be worth checking in with you again.
Have you given any additional thought to our proposal? I'd be happy to do a quick review of it on the phone and answer any questions you may have.
If it makes sense to talk, please let me know how your calendar looks. If not, who is the appropriate person for me to talk to?
Look forward to hearing from you,
[YOUR SIGNATURE]

新产品推出邮件
Hey [NAME],
We're thrilled to let you know that [Company] has just launched our new [Product name]!
In the last few months, we've been tirelessly working to make it valuable for our customers and we believe that [Product name] will help you enjoy your experience with [Company] even more.
If you've been struggling with [Issues this product solves], [Product name] would be a big help. If you're interested in learning more about it, feel free to reach out. You can also find out more about it on our website here: [link].
Let us know if you have any questions or want to talk more.
Thanks!
[YOUR SIGNATURE]

顾客忠诚邮件
Hey [NAME],
We're excited to announce the launch of our new [Name of loyalty program]. We've created lots of exciting and exclusive rewards to say thank you to our amazing customers, like you!
Earn 1 point for every $ you spend [online and/or in-store] to unlock exclusive rewards.
[Reward Title 1] – [100] points to redeem
[Reward Title 2] – [200] points to redeem
[Reward Title 3] – [300] points to redeem
There are also lots of other ways to earn loyalty points with us. You can earn points for [joining / completing your profile/ following us on social media/ referring friends, etc.].
Join Our Loyalty Program/ Learn More
[YOUR SIGNATURE]

向上销售邮件
Hi [NAME],
I hope your [year] is off to a great start!
We noticed that you've been paying for a monthly [Product/Service] subscription, and we're grateful to be able to help you [accomplish your business goals]. I'm writing today with a small tip on how you can get the same set of features at a lower price.
By switching to annual billing, you'll bring your monthly costs down from $ X to $ Y. There's no lock-in contract or any obligations. If you decide to switch back or cancel your subscription at any point, we'll be happy to refund you for any unused time.
Switch to Annual Billing and Save X %
If you have any questions or need any help at all, don't hesitate to reach out.
Regards,
[YOUR SIGNATURE]

升级促销邮件
Hi [NAME],
As a valued [Company] customer, you're invited to enjoy a free, one-month upgrade to [Product] Premium. Activate your free upgrade with no risk, no commitment, and no credit card input. With [Product] Premium, you can:
Benefit 1
Benefit 2
Benefit 3
And much more!
Upgrade to Premium Now
Your account will be upgraded instantly, and you'll enjoy full access to premium features for a full month. Join thousands of users who have discovered the difference [Product] Premium makes to their [business/ daily productivity, etc.].
Best regards,
[YOUR SIGNATURE]

顾客生日促销邮件
Dear [NAME],
It's your birthday today! Celebrate with a little extra something on us.
As a small birthday treat, we are giving you 50% off your next purchase for the rest of the month. Make sure to enter your unique code below at checkout. But hurry – it's only valid till the end of the month!
DISCOUNT CODE
Best wishes from all of us at [Company]!
[YOUR SIGNATURE]

节日促销邮件
Hi [NAME],
The holidays are fast approaching and will be here before you know it! At [Company], we've got something for everyone this year. Get your holiday list in check and take advantage of our incredible deals this week:
Shop our Holiday deals here
Bonus: Spend $XX or more on [products] and receive a FREE [product] as a gift with your purchase!
Happy holidays!
[YOUR SIGNATURE]

黑色星期五促销邮件
Hey, [NAME]!
Are you as excited as we are for Black Friday?
To celebrate the holidays and eating turkey, we're running our biggest sale yet. Starting at midnight Thanksgiving day, we're opening up 50% OFF our hottest products!
Hurry, the sale ends Sunday at midnight. Keep in mind that stock is limited and it's on a first-come, first-served basis!
Grab the Offers
Don't want to miss out? Click here to join our special Black Friday email list to be among the first to get notified when our sales happen (and when stock is getting low).
Until then, wishing you a happy Thanksgiving!
Cheers,
[YOUR SIGNATURE]

销售邮件模板-常见问题
销售邮件应该怎么写?
销售邮件可以有多种写法。最重要的就是邮件内容应该满足顾客的需求。
销售邮件应该如何下笔?
给新顾客发邮件时,应该要有个人问候,对产品或服务的简介,销售目标以及鼓励购买等内容。
销售邮件如何结尾?
结束销售邮件时可以通过促销活动鼓励人们购买。
Ready to put our sales templates to use?
LiveAgent is the most reviewed and #1 rated help desk software for small to medium-sized businesses. Try it today with our free 14-day trial. No credit card required.
{ "@context": "
https
://schema.org", "@type": "FAQPage", "mainEntity": [{ "@type": "Question", "name": "How do you write a sales email?", "acceptedAnswer": { "@type": "Answer", "text": "You can approach writing sales emails in numerous ways. The most important thing is to understand your customer's needs and tailor your message to fit them. The rest will follow." } }, { "@type": "Question", "name": "How do you write a sales target email?", "acceptedAnswer": { "@type": "Answer", "text": "For each new customer, you will need to write a new email that includes a personal greeting, an overview of the product or service, a sales goal, and a call to action." } }, { "@type": "Question", "name": "How do you end a sales email?", "acceptedAnswer": { "@type": "Answer", "text": "You can end a sales email with a call to action that offers the recipient a product or service." } }] }