每一家企业都不得不经常处理那些愤怒且抱怨着的客户。无论客户不满意的原因是什么,适当和及时的反应可以让失望的客户保持忠诚或是完全失去他们的业务。考虑到95%的不开心的客户倾向于与他人分享糟糕的经历——无论是亲自或通过社交媒体/评论网站——所以知道如何处理愤怒的客户,以及如何以专业的方式回应是任何从事面对客户工作的人绝对必须的。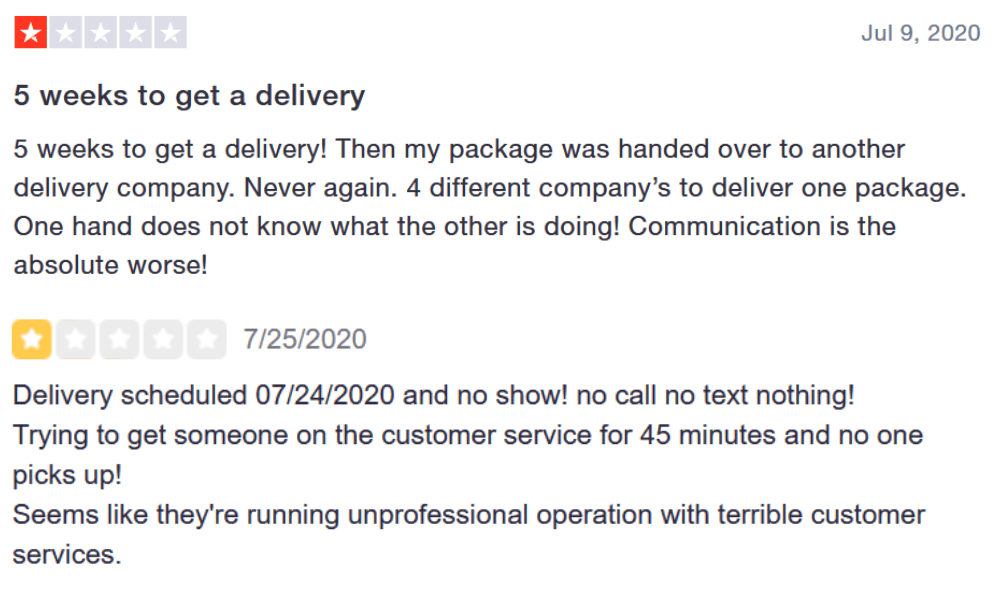 如何应对不满的客户
在回复一名愤怒的客户邮件时,要记住以下几点,并把它们写进邮件中:
尽快做出回应,避免负面的口碑传播。
为客户的负面体验道歉,表示同情和理解。
为您的公司可能做错的事情承担责任。
如果可能的话,对所发生的情况做出解释,并确保这种情况不再发生。
提供适当的奖励,合理的折扣或退款。
鼓励客户回答更多问题,评论或者关注。
8个客户服务邮件模板,用于回应愤怒/抱怨的客户
为了顺利且毫不费力地处理客户的不满和抱怨,您可以使用以下电子邮件回复模板来处理一些最常见的可能发生的问题。但是要确保个性化每条信息,考虑到每个客户的独特情况。
客户的服务体验很差
Hi [NAME],
Thank you for reaching out. First, I would like to apologize for your negative service experience with our tech support team.
I want you to know that your complaint and feedback will give us the chance to improve and serve our customers better in future, so I've forwarded your complaint to our
customer service
management team for further investigation.
I can understand how frustrating it must have been [whatever the customer experienced]. Although we strive for 100% customer satisfaction, it's clear we've fallen short in this case, but we'll do everything we can to make sure this doesn't happen again.
I'm sorry once again for your poor experience. Let me know if you have any more questions, comments, or concerns.
Best,
[YOUR SIGNATURE]
客户对这次购买不满意

Hey [NAME],
Thanks for your email. We're so sorry to know you were disappointed with our product. Could you please let us know more about why you weren't satisfied? We'll do our best to address your concerns.
If the item arrived damaged in any way or not as described – we would be happy to send you a replacement as soon as possible. Or, if you would like to proceed with a refund, then of course we can do that for you right away.
Please let us know how you would like to proceed and our apologies once again for your unpleasant experience.
Kind regards,
[YOUR SIGNATURE]

处理延迟发货

Dear [NAME],
I'm so sorry to learn your order hasn't arrived. I understand how frustrating this must be for you. We didn't intend for this to happen, however, due to some unforeseen circumstances, we are experiencing some delays.
I've tracked your package via [carrier] and it's currently listed as [status]. If you'd like to check on its progress, here's the link you can use: [link]
Please get in touch with me right away if your package has not arrived by [date] by responding to this email. Alternatively, you can call me directly at [number].
Once again, I sincerely apologize for the inconvenience.
Thank you for understanding,[YOUR SIGNATURE]

客户收到了错误的货品

Dear [NAME],
We are very sorry for the mix-up with your order and any inconvenience it has caused. I know a mistake like this can be very upsetting. We always try to do our best to get our orders right 100% of the time, but unfortunately, mistakes can sometimes happen.
We have put your order on priority so the shipment with the correct items is delivered at the earliest. If you'd like to track the package, here's the link you can use: [link]. If you have any questions in the meantime, feel free to contact me directly.
And we do have one small favor to ask. Could you please return the unwanted items within the next [number] days? There should be an adhesive prepaid return label inside the box.
Thanks for your understanding and cooperation, and once again, we apologize for the error.
Sincerely,
[YOUR SIGNATURE]

客户之前的邮件没有回复

Dear [NAME],
I am sorry for the delay in getting back to you. We are in a tight schedule right now and this has caused the delay. But I totally understand your frustration – your email deserved a timely response.
As you requested, we've updated your account settings and informed our tech team about the problem you're having with your account management page. Please, get in touch with me directly if you experience any further issues on our website, I'll be happy to help.
Once again, our apologies for the delay in response. We'll continue to do our best to speed up and improve our customer service delivery.
Regards,
[YOUR SIGNATURE]

客户要求一个例外

Dear [NAME],
I'm so sorry to hear that there were unable to meet the return window for [name of item].
Unfortunately, our company policy clearly states that all returns and exchanges must be made within 30 days after your item has been received. For more information, you can read our full return and exchange policy on our website here: [link].
While we can no longer issue a product exchange, we'd like to make it up to you by offering 10% off your next purchase. Simply use this coupon code [CODE] at checkout.
Once again, I apologize for any inconvenience this may have caused. Please let me know how else I can help.
Best regards,
[YOUR SIGNATURE]

客户留下了负面评论

Hi [NAME],
Thank you for taking the time to give us your feedback. We're so sorry your experience with [COMPANY] didn't match your expectations. We'd like to learn more about your specific situation and make things right, if we can.
If you wouldn't mind giving us a call at [number], it would be greatly appreciated. We look forward to speaking with you and working towards earning back your business.
Regards,
[YOUR SIGNATURE]

客户要走了

Dear [NAME],
I am really sorry to hear you are leaving us! As much as we'd love to regain your trust and keep you as a customer, I completely understand your frustration and I offer my deepest apologies for any inconvenience we have caused you.
Please let us know if you have any additional questions, concerns, or comments, or if we may be of assistance at any point in the future. We wish you all the best with your business.
Sincrely,
[YOUR SIGNATURE]

常见问题
您会对一个愤怒的客户说什么?
您可以试着让客户冷静下来,问他们相关的问题来进行诊断并尝试解决。对您的客户友好并没有什么错。
您不应该对一个愤怒的客户说什么?
不要批评、责备或是抱怨。不要争论,陈述显而易见的事实,或者尝试纠正事实。不要使用嘲讽的话语。不要认为客户的抱怨是有事实依据的。
如何识别愤怒的客户?
您可以通过以下5个迹象来判断客户是否生气:
1. 他们说粗话(脏话)。
2. 他们在嘲讽。
3. 他们使用指责的话语。
4. 他们是对抗性的。
5. 他们用短且不连贯的句子
Ready to answer angry customers?
LiveAgent is the most reviewed and #1 rated customer satisfaction software for small to medium-sized businesses. Try it today with our free 14-day trial. No credit card required.
{ "@context": "
https
://schema.org", "@type": "FAQPage", "mainEntity": [{ "@type": "Question", "name": "您会对一个愤怒的客户说什么?", "acceptedAnswer": { "@type": "Answer", "text": "您可以试着让客户冷静下来,问他们相关的问题来进行诊断并尝试解决。对您的客户友好并没有什么错。" } }, { "@type": "Question", "name": "您不应该对一个愤怒的客户说什么?", "acceptedAnswer": { "@type": "Answer", "text": "不要批评、责备或是抱怨。不要争论,陈述显而易见的事实,或者尝试纠正事实。不要使用嘲讽的话语。不要认为客户的抱怨是有事实依据的。" } }, { "@type": "Question", "name": "如何识别愤怒的客户?", "acceptedAnswer": { "@type": "Answer", "text": "您可以通过以下5个迹象来判断客户是否生气:1. 他们说粗话(脏话)。2. 他们在嘲讽。3. 他们使用指责的话语。4. 他们是对抗性的。5. 他们用短且不连贯的句子" } }] }